ChessBase 16 Premium Package and Chess King Flash Drive - Database Management Software DVD
ChessBase 16 Premium Package
Database Management Chess Software
Your key to fresh ideas, precise analyses and targeted training!
Now here is a very useful device, and one that you'll be proud to carry anywhere - a 6GB Flash Drive masquerading as chess King! This flash drive is jammed packed with chess engines for both Windows PC and Macs and crammed with interactive e-books. Simply pull the base off this 3.75" wooden King, which is held in place by strong magnets, and plug it into any USB port! Here is what the Flash King.
What's Inside the ChessBase 16 Premium Package
ChessBase 16 Database Management Software Program
ChessBase Premium Account (12 months)
ChessBase Mega Database 2021 with automatic update until 31 December 2021
Corr. Database 2020
Endgame turbo 5 (128 GB USB-Flash drive)
ChessBase Magazine subscription, full year: 6 issues DVD + print
Access to Live Database with over 8 million games
Multi-Language-Version: English, Spanish, French, Italian, Dutch, German
500 ChessBase Ducats
New in ChessBase 16:

Repertoire recommendations for every move with a single click. With a choice of focus: Main Variations, Fashion, Side Lines, Attacking, Gambits, Endgame
Better overview when playing through deeply analyzed games thanks to dynamic folding of the notation
Urgent news about recently played innovations with direct access to the database
Preparation for opponents with recognition of their weaknesses taking into account your own repertoire
Innovations and trends as annotations in Tactical Analysis
Update service for Mega Database with a single click
After an update to Mega Database, overview of important recent innovations and theoretical trends.
Search for characteristic tactical positions in an opening variation
Slimmed down search booster: required hard disk space halved
What You Can Do With ChessBase 16
Retrieve games according to openings, players and tournaments
Generate tournament cross tables and full graphic statistics of players or openings
"Similarity Search" shows all games with similar pawn structures, sacrifice patterns, endgame positions, etc.
"Let's Check"* access the world's largest database of in-depth analysis (more than 200 million positions)
"Assisted Analysis" lets you enter a game, click on a piece, and an evaluation is produced for all its possible target squares - highlighted on the board in color
"Tactical Analysis" will annotate game, inserting commentary, variations, and diagrams before strong moves or errors, placing them into a game or an entire database. It will also point out combinations, played in the game or missed, tries, attacks, and initiative. Plus of course the latest in openings theory
"Cloud analysis" analyzes positions simultaneously with several engines on different computers running in parallel
"Deep analysis" generates an analysis tree that changes dynamically, as with time weaker variations are dropped; automatic analysis jobs for correspondence games; one click annotates your game with the "Theoretical Novelty"
Merge games on the fly into an opening tree; generate a dossier containing all available information on a specific player from the database; generate a comprehensive openings report with main and critical lines, plans, and most important games
Single click publication of games on the Internet
Print games in superb quality with diagrams and multiple columns; automatic update of your local reference database with the weekly installments of games (one year)
Access to the ChessBase online database with over eight million games*
Mobile access with the ChessBase Account*
Check Out Our Helpful ChessBase Videos
ChessBase 16 System Requirements

Minimum: Pentium-PC, 1 GB RAM, Windows 7, DirectX9 graphics card with 256 MB RAM, DVD-ROM drive, Windows Media Player 9 and Internet access to activate the program, ChessBase Cloud and updates.
Recommended: PC Intel Core i7, 2.8 GHz, 8 GB RAM, Windows 10, DirectX10 graphics card (or compatible) with 512 MB RAM or more, Windows Media Player, Adobe Flash Player (Live coverage), DVD-ROM drive, Full HD Monitor and Internet access to activate the program, ChessBase Cloud, and updates.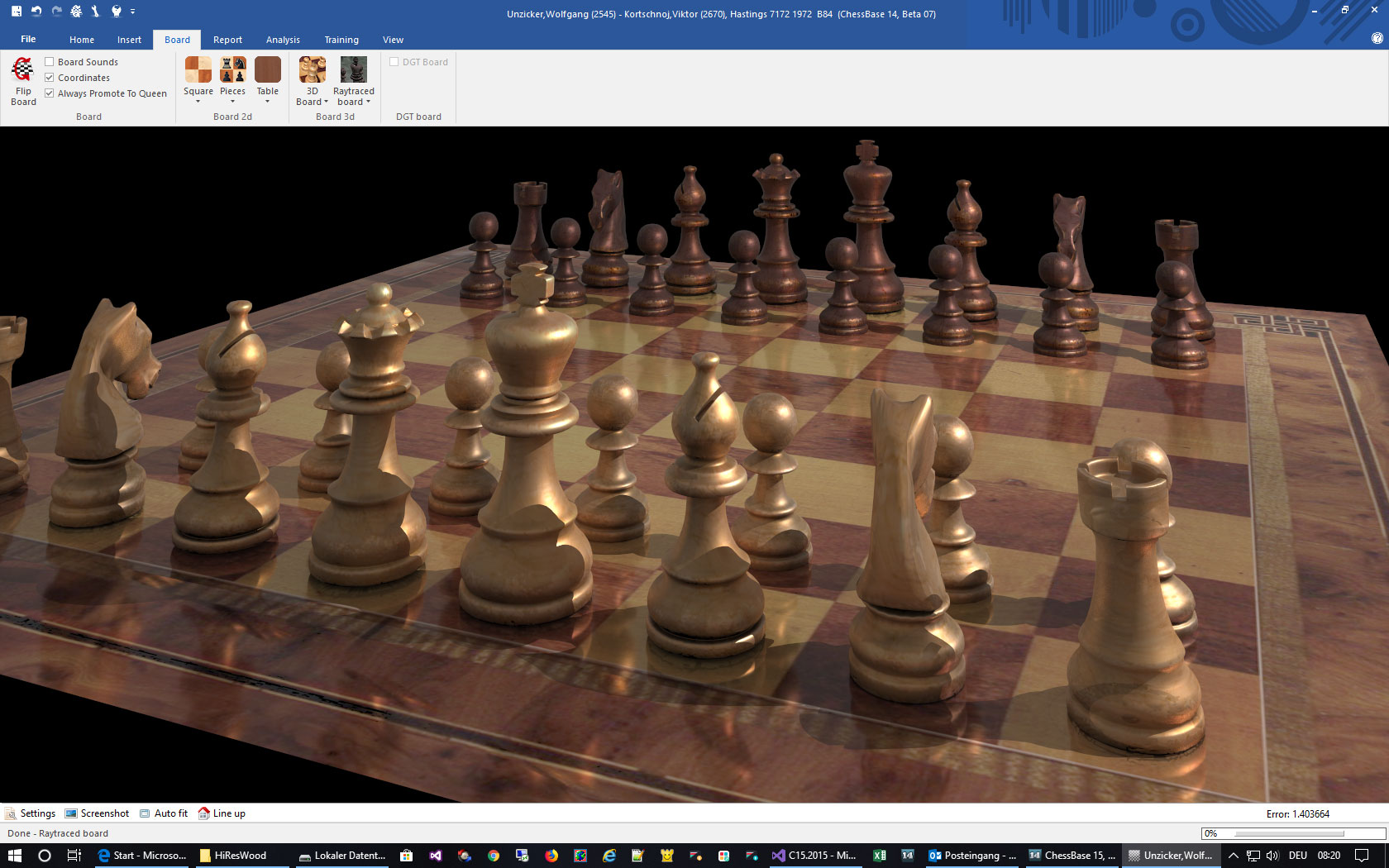 Crisp new 3D chess boards through Ray Tracing Technology available in ChessBase 15.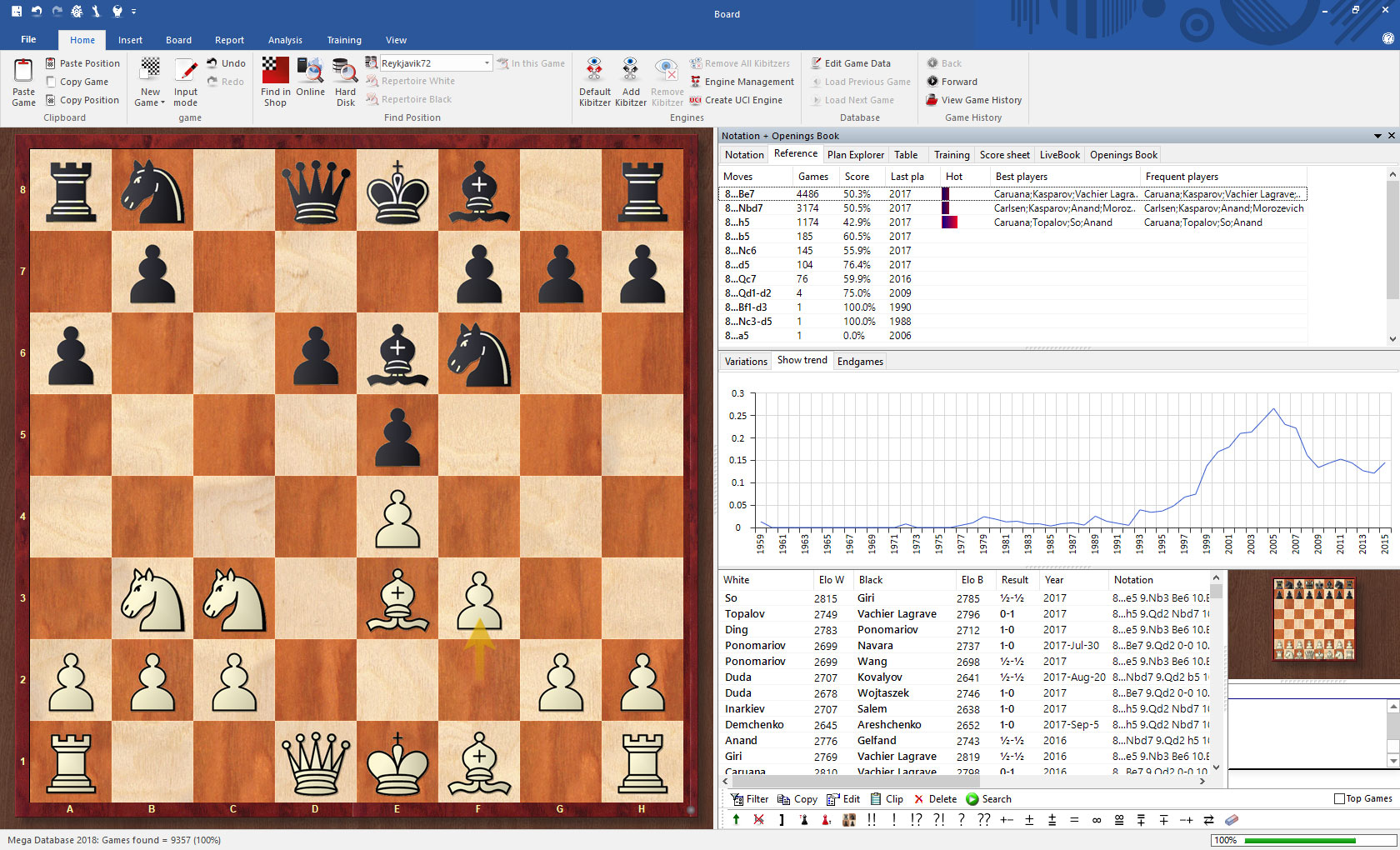 Plot the popularity of the opening you are studying and who plays it.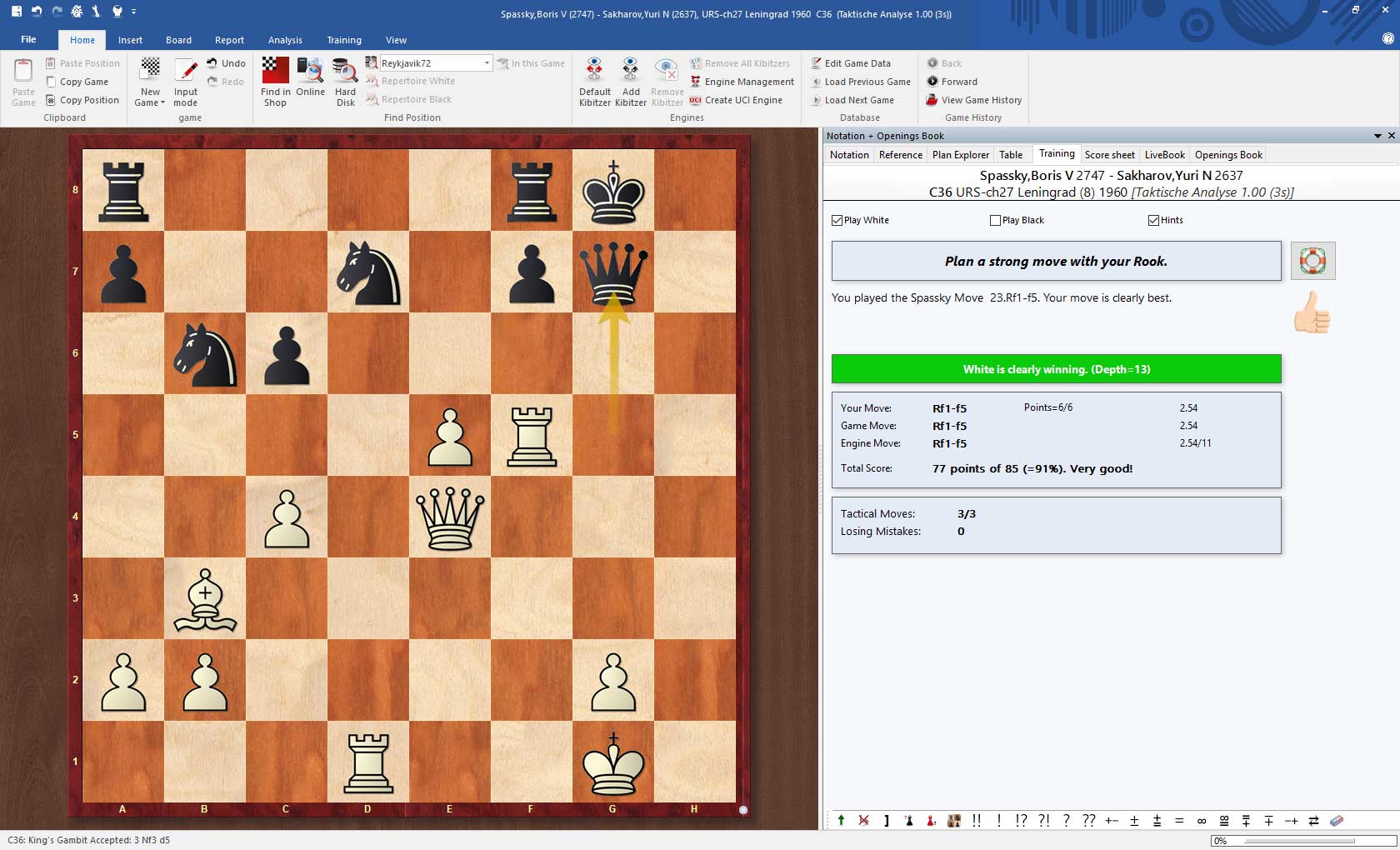 Playing through a game on ChessBase 15 with the notation hidden and automatic training questions with tips for each individual move.
In addition, a closing award of points scored.
Save
Save
Save
Save
Save
Save
Find Similar Products by Tag