Fat Fritz 2.0 Chess Playing Software Download
Fat Fritz 2.0 Chess Playing Software Download
Brand:
ChessBase Downloads

Fat Fritz 2.0 Chess Playing Software
For Windows PCs
Download
Fat Fritz 2.0 using AI technology that achieves optimal performance on regular computer processors (CPUs – no expensive graphics card required)
64-bit program interface
Includes current Fritz 17 program interface
Convenient one-click management of your own opening repertoires
Hundreds of ready-made repertoires included
Opening training with success control, measuring your progress with e-learning techniques
"Blitz & Train" will generate tactical puzzles from your own blitz games
Perfect analysis of endgames with up to seven pieces with access to "Let's Check"
Improved 3D chess boards thanks to real-time raytracing
Tournaments available 24/7 on playchess.com
ChessBase Premium Account (6 months) with access to training videos, Playchess, tactics training, and much more!
Database with 1 million games, etc.
Fat Fritz 2.0 is the successor to the revolutionary Fat Fritz, which was based on the famous AlphaZero algorithms. Using a new Japanese AI technology that achieves optimal performance on regular computer processors (CPUs – no expensive graphics card required) it combines the best of both worlds: a massive new neural network, trained by Albert Silver with the original Fat Fritz, while learning from the surgical precision of Stockfish's legendary search. This new version takes chess analysis to the next level and is a must for players of all skill levels, whether beginner or professional, who won't accept any compromises. Its understanding is unparalleled, as it learned by literally studying billions of chess positions.

Fat Fritz 2 comes with the latest version of the most advanced chess playing interface in the world, which provides coach functions, automatic game analysis, a database with 1 million games as well as a six-month subscription to ChessBase Premium Account.
*Fat Fritz 2 is an original neural network that is powered by a modified version of Stockfish, an open-source project licensed through the GPL v3 with all due rights. The source code of Stockfish and the modifications for Fat Fritz 2 can be found on Github.
Helping You Learn and Train with a New Fritz 17 Interface

As far as the interface is concerned, the key concept is "helping you learn." A number of brand new functions have been created with the sole purpose of helping you learn and train your openings. Let's face it, while studying openings can be fun, memorizing them is not and is often the reason many players avoid openings they might prefer, because of the challenge that presents. Fritz 17 brings an assortment of tools to help you and make that process as painless as possible.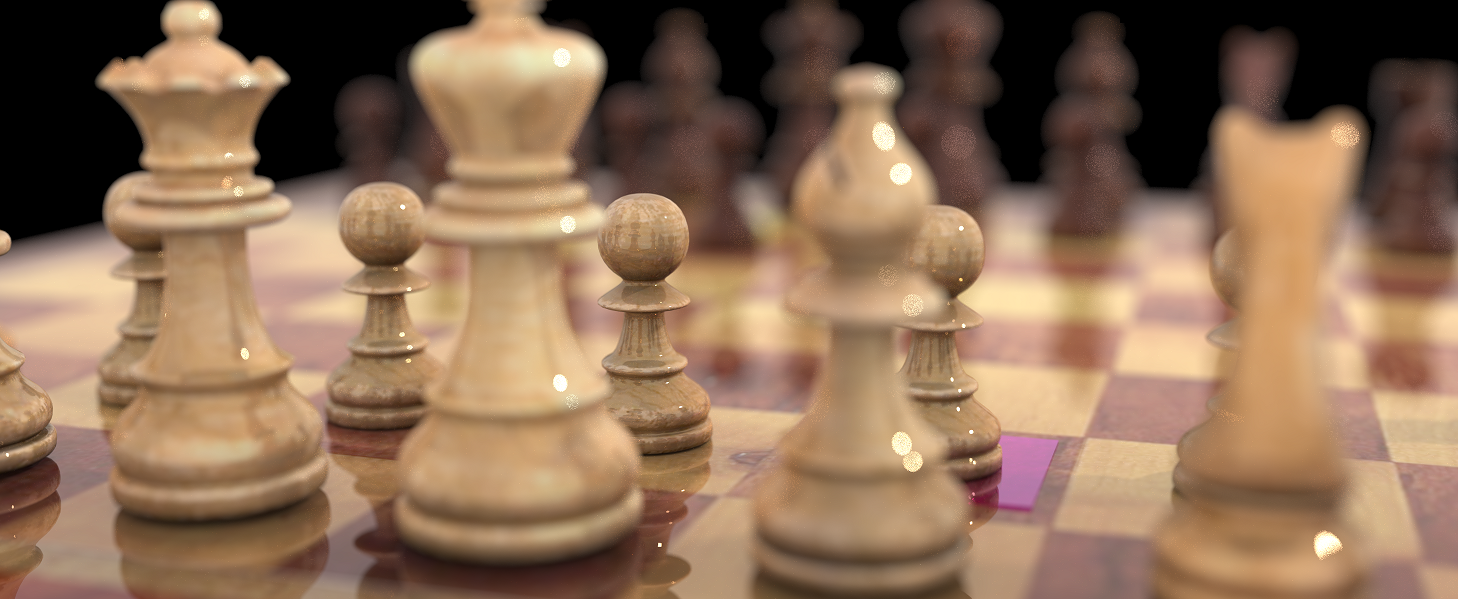 Creating the most gorgeous 3D chess images in record time

Finally, Fritz 17 and ChessBase will not be left behind in the wave of new 3D technology. Readers may have heard about the concept of Ray Tracing, the new buzzword by Nvidia on fantastic lighting in 3D models, even used to debunk moon landing conspiracy theories by demonstrating the accuracy of all lighting effects. Their new series of video cards was designed around this concept, and new games and 3D modeling have exploded with the steady inclusion of it. New in Fritz 17 is a powerful set of live ray tracing effects for the 3D chess boards, with a staggering amount of control on how and where they are lit. Even fancy camera effects such as background blurring are possible. However, these do require those fancy new video cards to be enabled.
Learn Chess Openings with Fritz 17
In Fritz 17 you will find several new opening management and training functions
Standard Repertoires In Fritz 17
Fritz 17 provides access to standard opening repertoires for nearly every prominent line in chess.
Blitz & Train on Playchess.com
Still, learning is not just memorization, and improving upon one's games is a key part of it all.

3D boards with Ray Tracing
With the arrival of the newest generation of video cards from Nvidia, Ray Tracing has now become a reality in real time.

System Requirements for Fat Fritz 2.0:

Minimum: PC Core i3 or i5 / AMD FX or Ryzen 3, 2 GB RAM, Windows 7/8/8.1 64Bit, DirectX9, , graphics card with 256 MB RAM, DVD-ROM drive, Windows Media Player 11 and Internet access.
Recommended: PC Core i7, i9 or AMD FX, Ryzen 7/9 and Windows 10 64-Bit, 4 GB RAM, Windows 10, DirectX10, graphics card with 512 MB RAM or more, Windows Media Player 11, DVD ROM drive and Internet access.
System requirements for ChessBase Account: Internet access and up-to-date browser, e.g. Chrome, Safari. Runs on Windows, OS X, iOS, Android and Linux.
Find Similar Products by Tag