Fritz 17 + PowerBook 2021 + Chess Success II Special - Software on DVD
Fritz 17 Chess Playing Software Program
For Windows PCs
Plus: Chess Success II Training Software
Now with "Fat Fritz," an extremely strong neural net engine inspired by Alpha Zero, which produces human-like strategic analysis.**
Improved Fritz 17 engine with traditional search and evaluations technology
Convenient one-click management of your own opening repertoires
Hundreds of ready-made repertoires included
Opening training with success control, measuring your progress with e-learning techniques
"Blitz & Train" will generate tactical puzzles from your own blitz games
Perfect analysis of endgames with up to seven pieces with access to "Let's Check"
Improved 3D chess boards thanks to real-time raytracing
Tournaments available 24/7 on playchess.com
Includes six months ChessBase Account, Premium Membership - now with 11 ChessBase web apps for mobile training, analysis, live chess, and much more
Fritz 17 with Fat Fritz and Much More!

In our most ambitious release yet, Fritz 17 brings a slew of features such as new functions to help you build your repertoire, special tools to help memorize it, new ways to generate exercises from your games, and more! It also brings not one, but several new engines such as the latest Fat Fritz with new percentage displays, the new Fritz 17 engine, and an easy-to-install Leela for the fans of the open-source project, and more!

The most popular chess program offers you everything you will need as a dedicated chess enthusiast, with innovative training methods for amateurs and professionals alike.

What's new in Fritz 17

How do you improve and build upon the world's longest lasting chess playing program series? Fat Fritz is indeed the show-stopping addition to Fritz 17, but it is far from the only novelty. For one thing, a brand new Fritz 17 engine is now in place with no need for a fancy graphics card to reap the benefits. Developed by Frank Schneider, the author of a very strong private engine known as Gingko, the new Fritz 17 engine will not only surpass the previous Fritz 16, but also provide new analysis for those seeking yet another new look at things.

Helping You Learn and Train with a New Fritz 17 Interface

As far as the interface is concerned, the key concept is "helping you learn." A number of brand new functions have been created with the sole purpose of helping you learn and train your openings. Let's face it, while studying openings can be fun, memorizing them is not and is often the reason many players avoid openings they might prefer, because of the challenge that presents. Fritz 17 brings an assortment of tools to help you and make that process as painless as possible.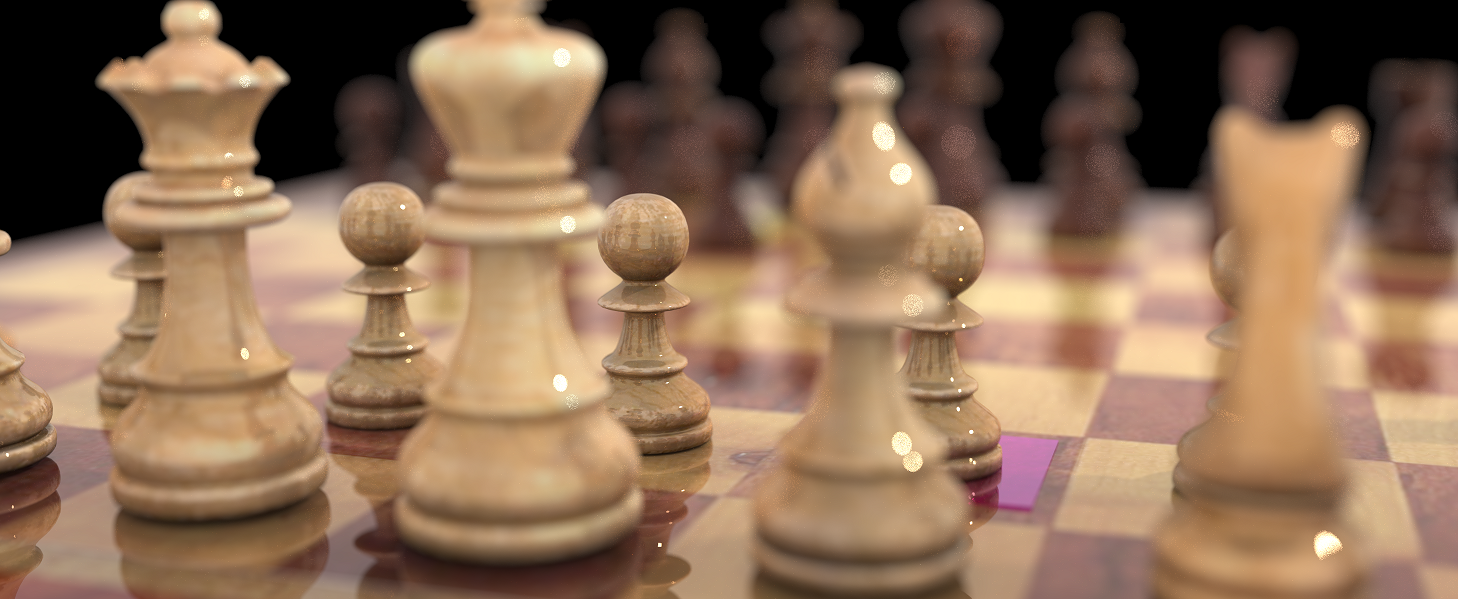 Creating the most gorgeous 3D chess images in record time

Finally, Fritz 17 and ChessBase will not be left behind in the wave of new 3D technology. Readers may have heard about the concept of Ray Tracing, the new buzzword by Nvidia on fantastic lighting in 3D models, even used to debunk moon landing conspiracy theories by demonstrating the accuracy of all lighting effects. Their new series of video cards was designed around this concept, and new games and 3D modeling have exploded with the steady inclusion of it. New in Fritz 17 is a powerful set of live ray tracing effects for the 3D chess boards, with a staggering amount of control on how and where they are lit. Even fancy camera effects such as background blurring are possible. However, these do require those fancy new video cards to be enabled.

Fat Fritz in Fritz 17
In any previous version of Fritz, all the above would more than justify a new version and release, but the icing on the cake is of course Fat Fritz.
The Video Card For Fritz 17
To use Fat Fritz and Leela properly you will need a solid graphics card. There really is no way to get around this requirement.
Learn Chess Openings with Fritz 17
In Fritz 17 you will find several new opening management and training functions
Standard Repertoires In Fritz 17
Fritz 17 provides access to standard opening repertoires for nearly every prominent line in chess.
Blitz & Train on Playchess.com
Still, learning is not just memorization, and improving upon one's games is a key part of it all.

3D boards with Ray Tracing
With the arrival of the newest generation of video cards from Nvidia, Ray Tracing has now become a reality in real time.
Fritz Powerbook 2021 Chess Database Software
Complete opening theory in an all-embracing opening book - that is the Fritz Powerbook 2021. With over 25 million positions including statistics concerning frequency, success rate, etc., the Powerbook is the most important supplement to your Fritz program! Ideal for learning and studying your own variations and for practicing them.
Also supplied with: a collection of the 1.5 million top level games from which the Powerbook 2021 was constructed as well as the special book "Strongbook," generated from the strongest Grandmaster games (ELO >= 2550) of the last hundred years (over 2 million positions).
The entire opening theory on DVD-ROM
Over 25 million opening positions
To every position all moves with success rate and Elo cut of the players
The most important supplement DVD for Fritz
System requirements: Pentium PC, 32 MB RAM, Windows 10, 8 or 7 and Fritz 13, 14, 15, 16 or ChessBase 15, 14, 13 or 12 and DVD drive
Chess Success II Training Software
Here you'll find something for every chess player, whether just learning the moves or a highly rated tournament competitor. ChessCentral has gathered everything needed to get you started in the world of chess - take a look:

Chess for Absolute Beginners
ChessCentral presents our 14 part series of beginner chess videos on how to play chess. Narrated by noted columnist Steve Lopez, these videos will teach you how to set up the chess board and move the pieces - and much more.

Play Chess - Have Fun!
Are you ready to begin a lifetime of adventure in chess? Here is your chance to quickly learn the movements of each chess piece, along with the complete rules of our royal game. But that's only the beginning! Next you'll want to conquer that first opponent, and Play Chess - Have Fun! will show you how.

Chess Masterpieces
This fine collection has unusual depth and variety for an assembly of just 157 games, yet all the leading players and forms of play are represented. Carefully organized, each game is a wonderful example of masterful chess, with perfectly-timed remarks by Mr. Bird - indeed a classic, and suitable for chess enthusiasts of any rank.

Common Sense in Chess
This e-book records a series of lectures given by Emanuel Lasker, the 2nd World Chess Champion, before an audience of London players in early 1895. Lasker's clear presentation has created a classic and timeless guidebook which has benefited generations of chess players. Anyone who has learned the rules of chess will be amply repaid for his study of Lasker's Common Sense in Chess.

Instructive Positions from Master Chess
Imagine an experienced Grandmaster showing example after example of crushing finishes and narrow escapes, all explained with notes directly on point and delivered in a friendly and engaging style. That's what you get with Instructive Positions from Master Chess.

Art of War
Although Sun Tzu's Art of War was written more than 2,600 years ago, it stands today as the pre-eminent work on military strategy, the most brilliant exposition of armed conflict ever composed. This profound manual was penned in the age of chariots and spears, yet generals and field commanders have relied upon its wisdom throughout the ages. Of course, today's chess player can do likewise!
** Requires a powerful graphics card with NVIDIA chip (usable on CPU but significantly slower).
SYSTEM REQUIREMENTS:
Minimum (not optimized for Raytracing and Fat Fritz): Dual Core, 2 GB RAM, Windows 7 or 8.1, DirectX11, graphics card with 256 MB RAM, DVD-ROM-drive, Windows Media Player 9 and Internet access.
Recommended: PC Intel i5 or AMD Ryzen 3 (Quadcore), 8 GB RAM, Windows 10 with 64-Bit (current version), NVIDIA RTX graphic card with 6 GB RAM and current driver (Fat Fritz on older NVIDIA cards or older graphic cards: drastic loss of performance, and runs on CPU only for demonstration purposes) , Windows Media Player 11, (DVD-ROM drive) and Internet access.
System requirements for ChessBase Account: Internet access and up-to-date browser, e.g. Chrome, Firefox, Safari. Runs on Windows, OS X, iOS, Android and Linux.
Find Similar Products by Tag