ChessBase 17 Premium Package a EDITION 2024 nd Chess King Flash Drive - Database Management Software DVD,
ChessBase 17 Premium Package
EDITION 2024
and Chess King Flash Drive
What's Included in ChessBase 17 Premium Package
* ChessBase 17 Program (Multi-Language Version: EN, ES, FR, IT, NL, GER)
* Mega Database 2024
* Database-Update-Service through end of 2024
* Corr Database 2024
* Endgameturbo 5 (128 GB USB-Flash drive)
access to the Live-Database (9,75 million games ) *
* ChessBase Magazine subscription for a full year (6 issues)
* Full year Premium membership for playchess and for the * ChessBase Accounts
Voucher: 1 ChessBase Profi-Powerbook
500 ChessBase Ducats
ChessBase 17 focuses what is foremost in program's actual application. Therefore much work has gone into functions that are noticed only below the surface, but which improves the user experience - the new ultra-high-resolution 2D board; the crisp display of notation and lists through support of Direct 2D, which runs on all recent Windows versions; and popular in more recent times, the "Dark Mode."

Technical Improvements

Many technical improvements have improved the program generally, such as a new faster data format, with fewer files and no search booster - which overcomes limitations of the CBH format. Also a fine-tuning of the database paths that solves conflicts with the Documents directory and OneDrive. Now you can smoothly manage your
databases outside the standard Windows directories.

Interactive Search Mask

The smart inputting of positions is of direct chess significance. Simply place a few pieces onto the board, and immediately see in which games of the reference database this position fragment occurs. By clicking on a game, you can save yourself the rest of the data entry chore. The new search mask is also more interactive: if you enter a search criterion, the number of games in the database for which it matches is immediately displayed. This way, you know what yield to expect before you click the "OK" button.
The New Engine Window

Much has been done in one area that is crucial for daily chess work - the engine window. Most ChessBase users probably spend 90% of their time with interactive analysis of positions, but the output window has altered little in the last 30 years: variations, evaluations, dry as dust, done. In ChessBase 17, this has been fundamentally re-evaluated. The visual evaluation of pieces and measurement of complexity - you know from Fritz 18. The display of non-trivial threats or temptations is useful, but also already familiar. The same goes for the training option to suppress the entire engine output, and only receive subtle tips as a stimulus to your own thinking. This is primarily intended for when watching live games.
ChessBase 17 System Requirements

Minimum: Pentium-PC, 1 GB RAM, Windows 7, DirectX9 graphics card with 256 MB RAM, DVD-ROM drive, Windows Media Player 9 and Internet access to activate the program, ChessBase Cloud and updates.
Recommended: PC Intel Core i7, 2.8 GHz, 8 GB RAM, Windows 10, DirectX10 graphics card (or compatible) with 512 MB RAM or more, Windows Media Player, Adobe Flash Player (Live coverage), DVD-ROM drive, Full HD Monitor and Internet access to activate the program, ChessBase Cloud, and updates.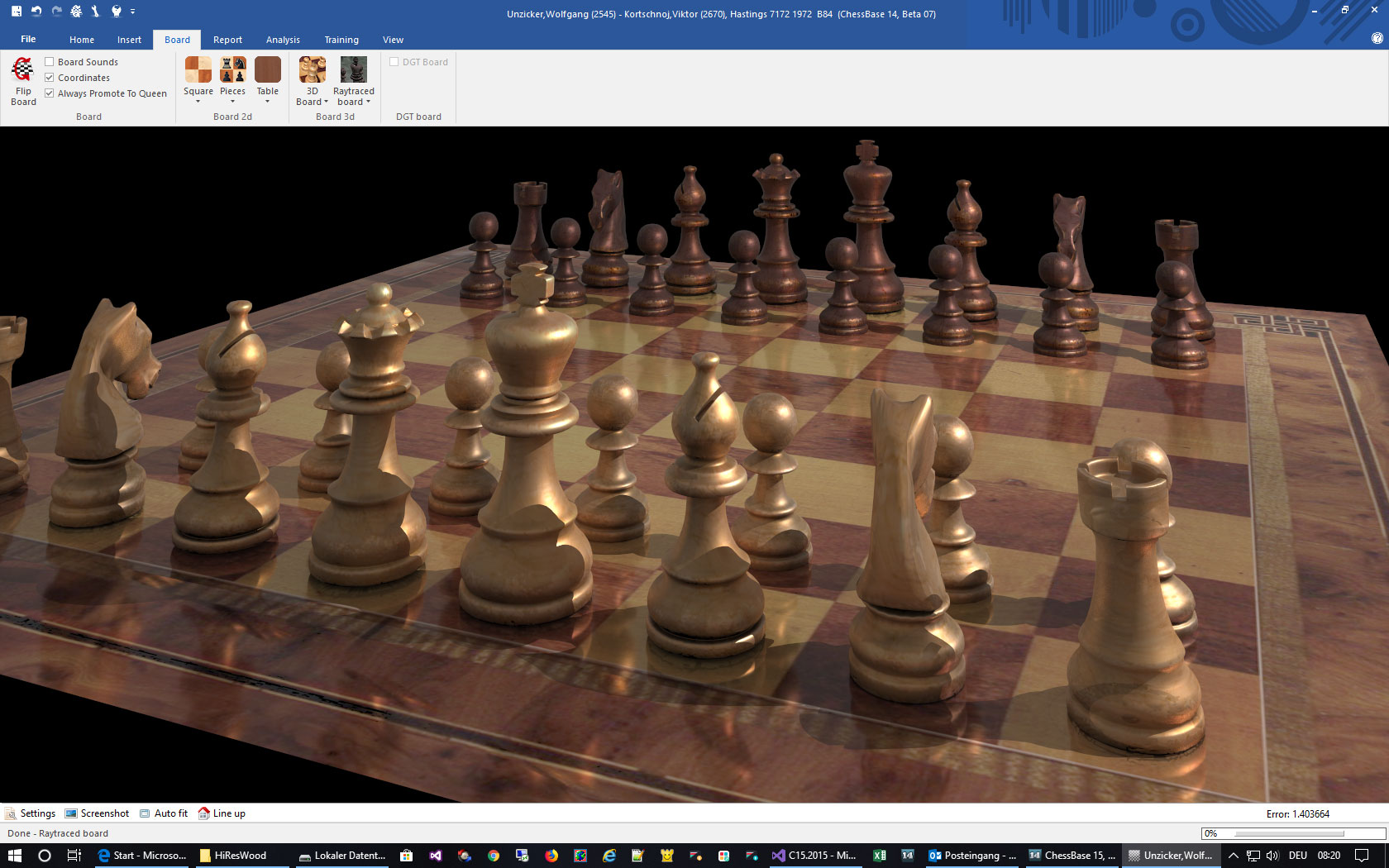 Crisp new 3D chess boards through Ray Tracing Technology available in ChessBase 15.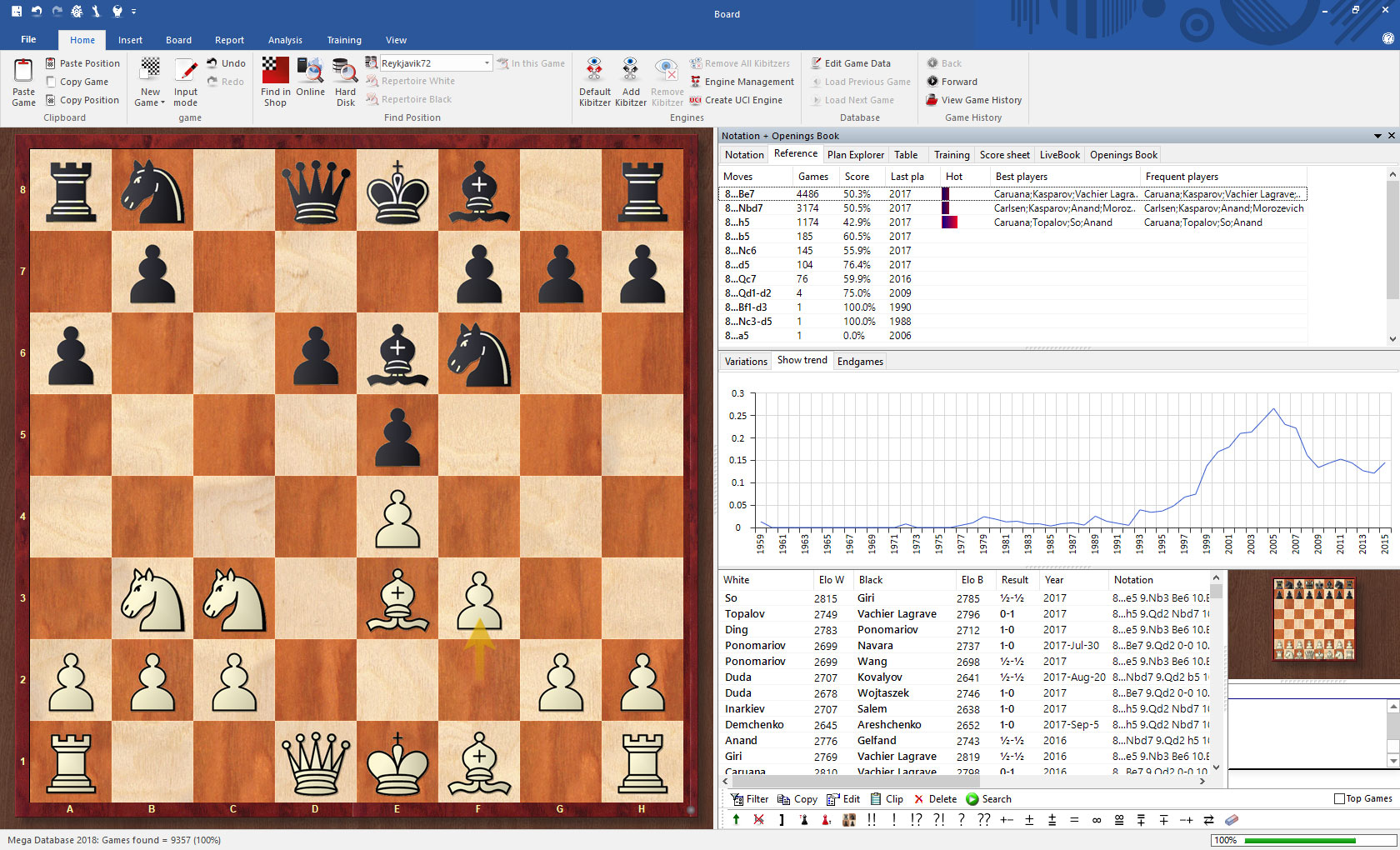 Plot the popularity of the opening you are studying and who plays it.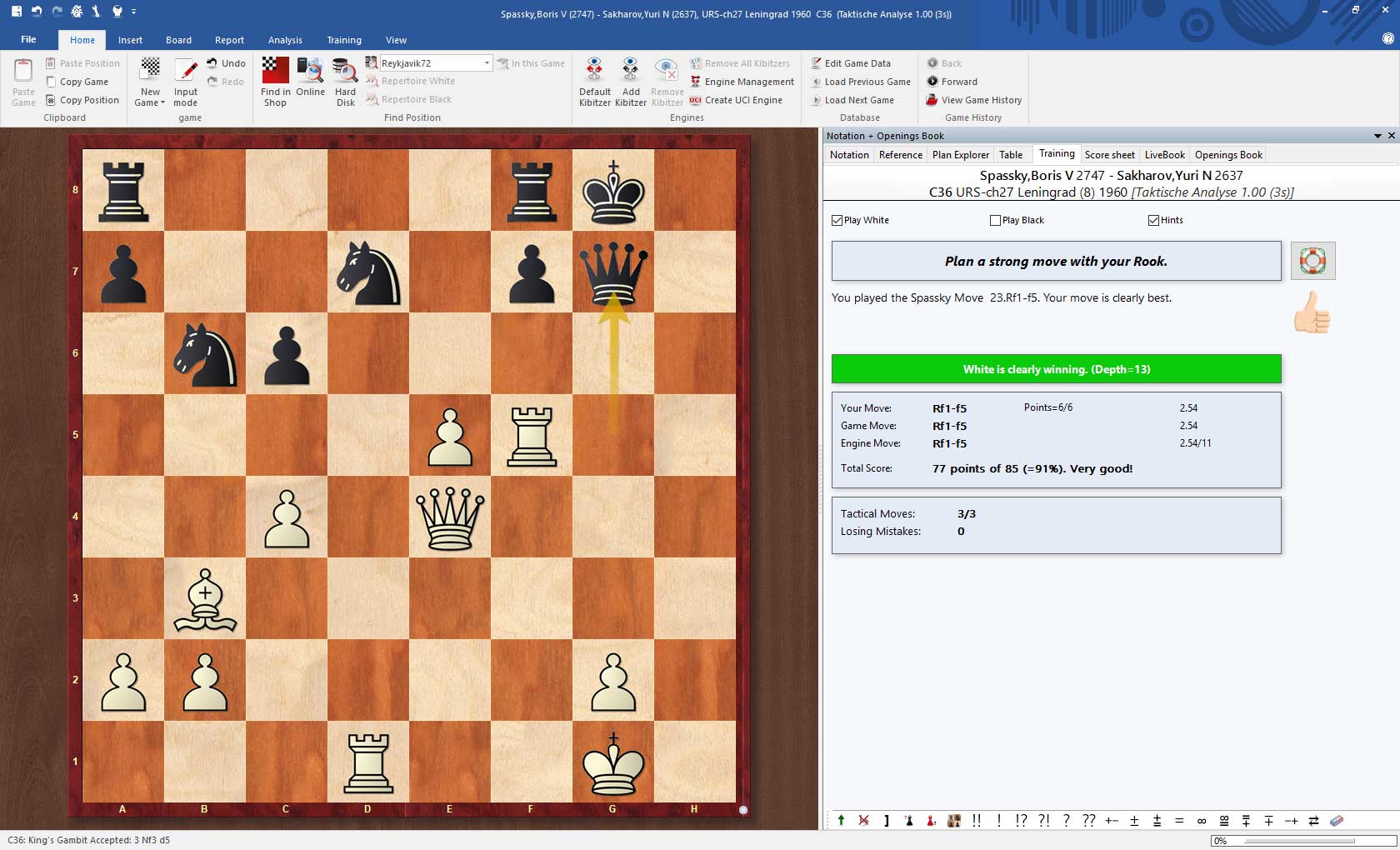 Playing through a game on ChessBase 15 with the notation hidden and automatic training questions with tips for each individual move.
In addition, a closing award of points scored.
Save
Save
Save
Save
Save
Save
Find Similar Products by Tag